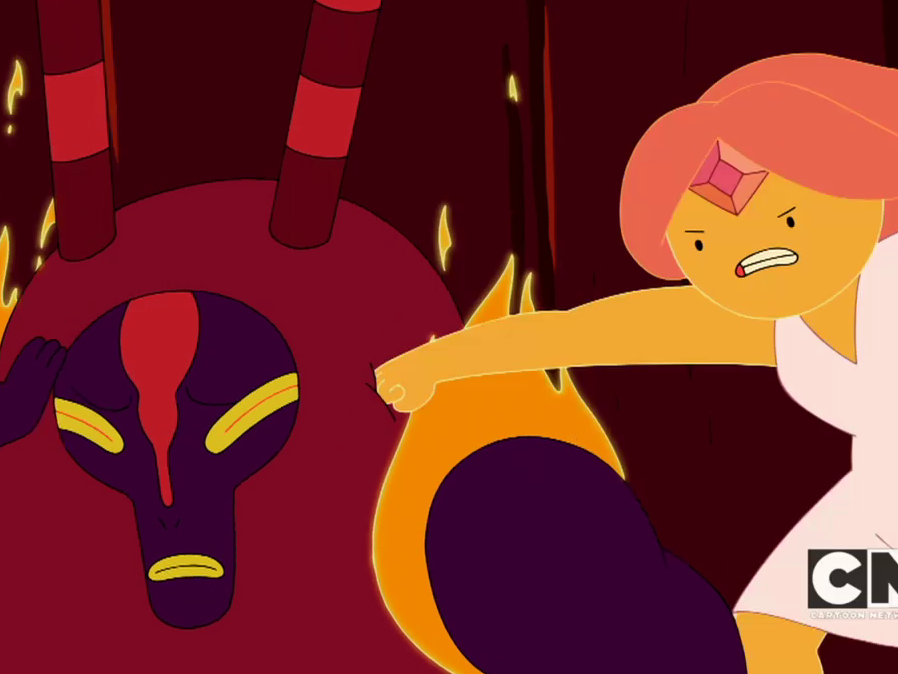 Don Jon The Flame Lord is a villain in Adventure time and a contestant in the Wizard Battle who first appears in the episode "Wizard Battle." When Abracadaniel is explaining that opposite wizards would fight each other, Flame Lord is seen squaring off against Ice King. However, Ice King cheats by knocking him out with nunchucks. He later makes a cameo in "Wizards Only, Fools" as the Wizard Police chase after Finn, Jake, and PB.
In "The Red Throne," he helps Flame King overthrow Flame Princess in return for her hand in marriage. When Flame Princess refuses, however, Flame Lord feels cheated and has a fistfight with Flame King. During this fight, Cinnamon Bun frees Finn and Flame Princess from their prison and has Flame King returned to his lantern together with the Flame Lord. He was voiced by the late Roddy Piper.
Some or all of the information and/or categories on this page may have come from another site such as the Villains Wikia or TVTropes.org. This may include previous edits that are different than the current version. Changes to this page to provide original content are welcomed and encouraged, but this notice must remain on the page at all times.

To visit this page on the Villains Wikia, click here.
Ad blocker interference detected!
Wikia is a free-to-use site that makes money from advertising. We have a modified experience for viewers using ad blockers

Wikia is not accessible if you've made further modifications. Remove the custom ad blocker rule(s) and the page will load as expected.