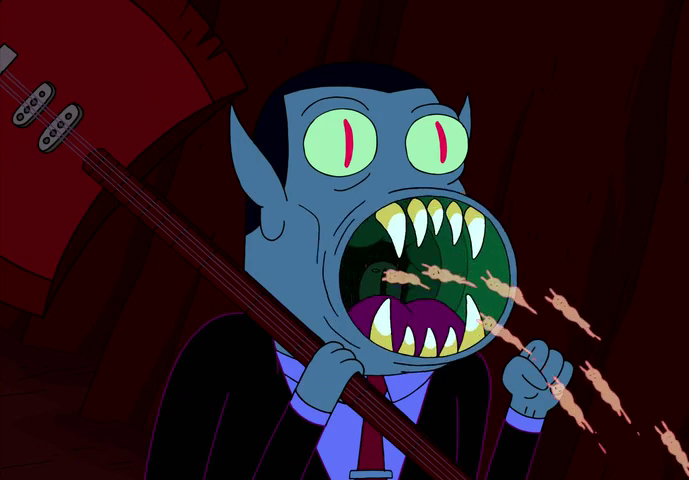 Hunson Abadeer is Marceline's father and the antagonist of the Adventure time episode "It Came from the Nightosphere". He again reappears in the episode "Daddy's Little Monster" trying to provoke his daughter into ruling the Nightosphere and said he just wanted to feel proud of her.
He is a Demon that was sealed away in the Nightosphere until Finn freed him in an attempt to bring Marceline and her father back together. Marceline was not happy to see him, as he feels as he doesn't care about her as well as that he stole some of her fries during a meal at one point in the past. He stormed over Ooo, sucking the soul of every living thing he met, except for the Ice King and Gunter the penguin, whom he thought was much more evil then him. When he met Marceline, he apologized for stealing her fries and reminds her that he still loves her. At that point Finn sealed him away again on the Nightosphere and frees all the souls he stole, leaving Marceline upset at him for not leaving her enough time to fully bound with him and for embarrassing her.In "Memory of a Memory," Finn sees a flashback of him eating his daughter's French fries, an incident that caused a rift in their relationship and led to Marceline writing her "Fry Song." Hunson Abadeer reappears in "Daddy's Little Monster," trying to trick Marceline into taking over the Nightosphere. But fails and finally realizes what he's doing to her.
Some or all of the information and/or categories on this page may have come from another site such as the Villains Wikia or TVTropes.org. This may include previous edits that are different than the current version. Changes to this page to provide original content are welcomed and encouraged, but this notice must remain on the page at all times.

To visit this page on the Villains Wikia, click here.
Ad blocker interference detected!
Wikia is a free-to-use site that makes money from advertising. We have a modified experience for viewers using ad blockers

Wikia is not accessible if you've made further modifications. Remove the custom ad blocker rule(s) and the page will load as expected.