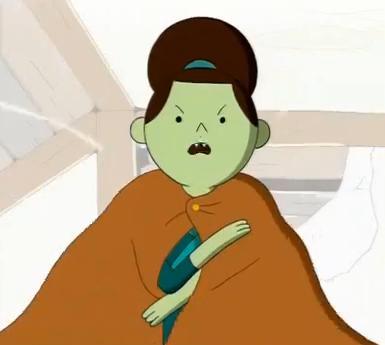 Maja the Sky Witch is an Adventure time villain who first appears in "Sky Witch." She was the witch who bought Hambo from Ash, and later traded Princess Bubblegum Hambo in exchange for Princess Bubblegum's rock t-shirt. She needed the material's emotional essence for a brew, that she said "Will be big."
She re-appears in Something Big where she uses the rock t-shirt to summon Darren and planned to attack the candy kingdom with it but she gets knocked unconscious when darren is defeated and is being nursed back to health by the ancient psychic tandem war elephant.
She makes a small cameo in Flute Spell, where it is seen that the elephant is still taking care of her, but is beginning to have doubts if she will ever wake up.
Appearance
Maja has light green skin, she has brown hair tied into a large bun that almost the same size as her head. She is seen wearing a light brown poncho covering a teal shirt
Trivia
Her cruelty and accepting of violence and murder is similar to that of Poubelle and Yellow Diamond
She is voiced by Jill Talley.
She mostly uses magic tools to do her biding, similair to Lee.
Some or all of the information and/or categories on this page may have come from another site such as the Villains Wikia or TVTropes.org. This may include previous edits that are different than the current version. Changes to this page to provide original content are welcomed and encouraged, but this notice must remain on the page at all times.

To visit this page on the Villains Wikia, click here.
Ad blocker interference detected!
Wikia is a free-to-use site that makes money from advertising. We have a modified experience for viewers using ad blockers

Wikia is not accessible if you've made further modifications. Remove the custom ad blocker rule(s) and the page will load as expected.