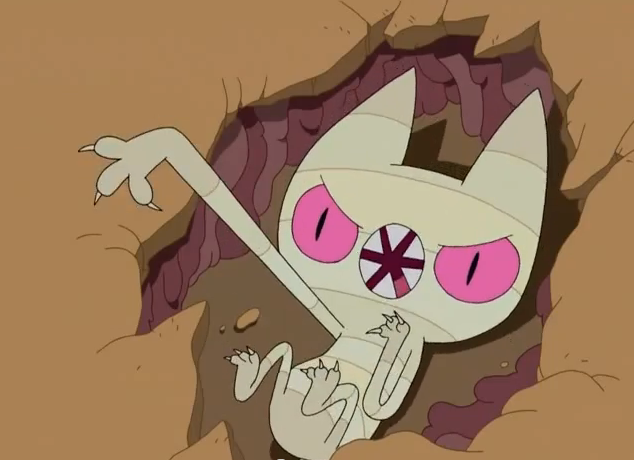 Me-Mow is a villain in Adventure time. She is the main antagonist of the episodes Jake vs. Me-Mow." and Angel Face. She is voiced by Kyla Rae Kowalewski.
Adventure Time
She first appears in Jake vs. Me-Mow." She is a second-class assassin of the Guild of Assassins and is trying to kill Wildberry Princess to become a full-member assassin. A note was stabbed to Wildberry Princess' doorman, which said, "we are going to assassinate you." During the episode, Me-Mow poisons Jake with a syringe full of green liquid that is capable of killing a dog fifty times the size of Jake. Jake grows his liver to fifty-one times the size of an average dog, stopping the poison. Me-Mow stated when she failed her assassin's test that she would have to wait a year to retake it. Infuriated, Me-Mow responds by leaping at the princess to kill her, but at the last moment the princess pops her berries and Me-Mow soars off the cliff. Me-Mow survives from the fall by flying away on the back of a blue bird.
Me-Mow reappeared in "Angel Face", now having grown to the size of an average adult human. She has since been kicked out of Guild of Assassins, likely for her failure, and become a bounty hunter. She manages to capture Finn, who was mistaken for having a bounty on his head due to the wanted posters BMO had made for his roleplaying event, and is later confronted by Jake and BMO, who capture and imprison her in the Candy Kingdom Dungeons. She then vows revenge.
Some or all of the information and/or categories on this page may have come from another site such as the Villains Wikia or TVTropes.org. This may include previous edits that are different than the current version. Changes to this page to provide original content are welcomed and encouraged, but this notice must remain on the page at all times.

To visit this page on the Villains Wikia, click here.
Ad blocker interference detected!
Wikia is a free-to-use site that makes money from advertising. We have a modified experience for viewers using ad blockers

Wikia is not accessible if you've made further modifications. Remove the custom ad blocker rule(s) and the page will load as expected.