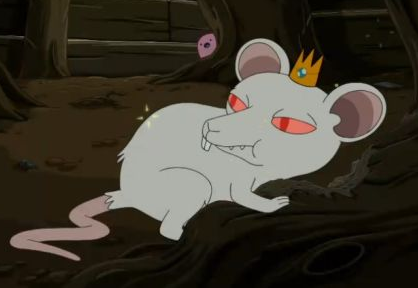 The Rat King is a main antagonist in the episode "Little Brother" from Adventure Time. He is voiced by James Urbaniak.
Adventure time
He appears in Little brother, where Kent (Shelby the worm's baby brother) wants to become a hero by defeating a villain. He spots the Rat King, who has magical teeth that harms the tree Finn and Jake live in every time he sinks his teeth in it. Kent tries to stop him, but is ambushed and badly injured by his rat minions. Later, Kent is healed by Leaf Beard, a small leaf person who helps him build a better sword for battle. After that, Kent faces off the king again, only to see that he has called upon a giant swarm of rats to serve as a gigantic body to him. However, this does not matter to Kent, who attacks the king and defeats him by destroying his teeth. Afterwards, he is last seen running around teethless in the tree, which, due to Kent's victory, is in bloom for the very first time.
Some or all of the information and/or categories on this page may have come from another site such as the Villains Wikia or TVTropes.org. This may include previous edits that are different than the current version. Changes to this page to provide original content are welcomed and encouraged, but this notice must remain on the page at all times.

To visit this page on the Villains Wikia, click here.
Ad blocker interference detected!
Wikia is a free-to-use site that makes money from advertising. We have a modified experience for viewers using ad blockers

Wikia is not accessible if you've made further modifications. Remove the custom ad blocker rule(s) and the page will load as expected.